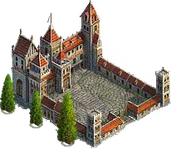 The
Barracks
is a
Building
where you train and recruit
Troops
. Upgrading your barracks unlocks new Troops and increases the maximum level all Troops can be upgraded to. No Troop can be upgraded to a higher level than your Barracks.
(See the Building page for upgrade costs and cooldowns)
Types of Troops
Edit
Details on the troops can be found on the Troops page
| Troop | Description |
| --- | --- |
| Lancer | The most basic of soldiers who carry sharp lances that shred anything that is in their path. |
| Hunter | Uses bow and arrows to launch ranged attacks; possesses and exellent attack rating. |
| Paladin | An elite type of soldier that has exceptional attack and physical defense abilities. |
| Priest | A master of elemental magic that has exceptional magic attack and defense abilities. |
| Gryphon | A domestic breed of gryphon that boasts fast attack speeds and strong defenses. |
| Knight | With virtually impenetrable armour, knights have some of the best battle capabillities. |
| Angel | A divine race of angelic warriors that will only submit to the strongest of masters. |
| Templar | A righteous warrior that is proficient in combat skills and sparring. |
| Warlock | Controlling the forces of darkness, warlocks are capable of using all kinds of black magic. |
Ad blocker interference detected!
Wikia is a free-to-use site that makes money from advertising. We have a modified experience for viewers using ad blockers

Wikia is not accessible if you've made further modifications. Remove the custom ad blocker rule(s) and the page will load as expected.